Birmingham Plumber |
Plumbing Service Company in Birmingham, Alabama
Are you having any issues with your plumbing system? A dripping faucet, a running toilet or a leaking pipe? Does your toilet drain properly? Call our master plumber at (205) 991-8181 for anything from minor installations, clogs, to major water line replacement or other plumbing emergencies.
Our master plumber Robert and his team understand that having a plumbing problem is an extremely time-sensitive issue that's why we always run more than one truck and we will get to your home as soon as it is possible.
Plumbing repairs and plumbing maintenance
Plumbing fixture installations
Drain cleaning and sewer cleaning
Kitchen and bathroom faucets
Toilets, tubs, showers, and sinks
Garbage disposers and dishwashers
Sewer installation and sewer repair
Video camera inspections
Water heater installation and water heater replacement
Water heater repair and water heater maintenance
Water leak detection and water leak repair
Tree root removal
Trenchless sewer replacement
Pipe bursting
Re-piping
Polybutylene pipe replacement
Plumbing services in whole Birmingham area and HWY 280
Our master plumber services the whole Birmingham, Al area, including HWY 280. Call (205) 991-8181.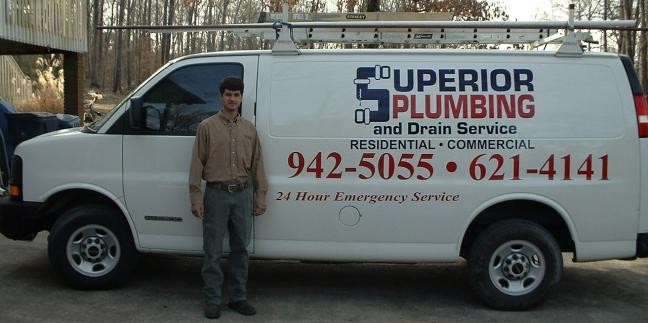 Why Superior Plumbing & Drain