Hot Water Heater Repair & Installation
Electric/Gas Water Heaters
The life expectancy of a water heater can range from 8 to 15 years with electric water heaters usually lasting longer than gas. Hot water doesn't normally cross the homeowner's mind until there isn't any. Superior Plumbing And Drain can repair or replace your electric or gas water heater. We can suggest the most efficient model and the best size for your home's needs. As your family dynamics change, so does your hot water needs. No one wants to have the last shower with no hot water left. If you need to upgrade or downgrade the size of your water heater, give us a call at (205) 621-4141.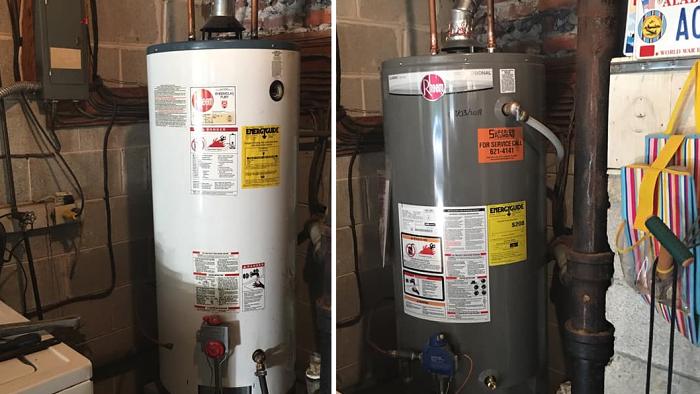 Tankless Water Heater
Baths and clothes washing for a growing family will require more hot water normally than a single person or couple. If the hot water heater is too large for the family, energy will be wasted. It is estimated that the average household will waste 9,000 gallons of water waiting for the water temperature to warm. A tankless water heater is energy efficient and could be the solution for your family's needs.
Tankless Water Heater Saves Energy
Tankless water heaters only heat water when it is needed with an average output of from 2 -5 gallons per minute. Tankless means there is not a storage tank. Although initially more expensive than a tank water heater, the tankless will normally last much longer, lower operating costs, and uses less energy. The less hot water needed, the more savings using a tankless. If you use a lot of hot water in several locations simultaneously, additional tankless water heaters can be installed for appliances like the washing machine. A tankless water heater would be great for a secluded hot tub. Consider the costs versus savings and hot water needs versus maximum supply before buying a tankless water heater.
For safety and especially with small children, it is recommended that the water heater temperature be set at no higher than 120 degrees. At 125 degrees, it only takes 2 minutes to burn the skin. At 130 degrees, that time drops to only 30 seconds. It only takes 6 seconds for a first-degree burn at 140 degrees.
Water Heater Maintenance
Routine maintenance is important for a hot water heater. It is recommended to drain water heaters once a year. Then the sediment, in the bottom of the tank, should be flushed out. This maintenance will make the water heater run more efficiently, and last longer.
Call Superior Plumbing (205) 621-4141 for any water heater maintenance or problems. Our licensed plumbers are professional and courteous with many years of experience.
We proudly serve Alabaster, Pelham, Birmingham, Helena, Calera, Cahaba Heights, Hoover, Homewood, Mountain Brook, Vestavia Hills, Inverness, Indian Springs.